Who Benefits From Functional Training:
---
Functional training is an exercise that enhances your movement to perform a specific function. It aims to activate muscle groups to work together for an intended activity. We prescribe it to improve the active life you enjoy. Our focus is a balanced movement to optimize your daily activities and skills in sports. This training is part of our approach to holistic therapy.
Postural Training

Postural training is a special exercise to balance your body in an upright position. We prescribe it to treat your condition resulting from bad posture.

Our purpose is to reduce strain in your muscles and speed up tissue healing. Aligning your body enhances movement and prevent injury. Thus, it helps in your overall performance.

We put good posture as a top priority in our treatment. Postural training makes your body healthy and free of pain. Balance physique will lead you to great shape and enjoy your active life.

Gait Training

Gait training is a therapy that helps you walk and correct your walking pattern. We prescribe it when you have weakness after an injury to help you to move around better.

First, we will figure out the source of your symptoms and analyze the way you walk. Then, we will treat the cause for you to get back on your feet the proper way.

We will help you walk properly. If you don't walk straight, you tend to wear out faster. This treatment helps you to optimize your function and recover your active life.

Balance Training

Balance training is an exercise that helps your body to maintain an upright position while standing or moving. It enhances the control of your body from swaying. This treatment helps recover your normal function. It prevents falls and re-injury.

The exercises focus on enhancing your joint awareness from swaying and improve quick reaction. We train your balance to maximize your active life and performance in sports.

Balance training is an essential part of our approach to physical therapy. Our goal is to put you back to your optimal function.

Agility Training

Agility training is an exercise that enhances your ability to move from side to side while running. It develops your skills to move, stop, and change direction while maintaining balance. We prescribe this activity to improve your quickness and reaction in sports.

Our focus is to put together your strength, speed, and balance to increase the level of your performance. Agility exercise helps you to play your game easier and better.

Agility is an essential skill to maximize your sports. Our approach can help you get on top of your game.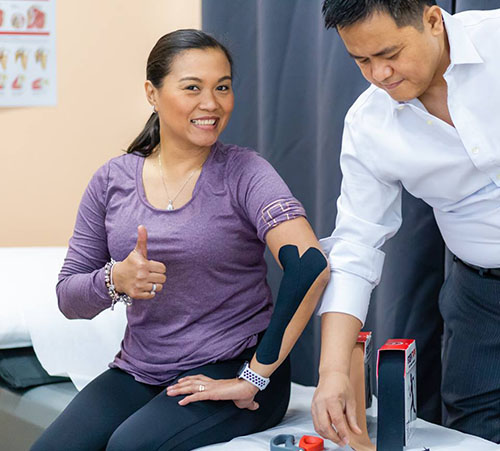 Our Experience
---
Functional training is the core of our therapy to regain your active life. We combine exercises to maximize your performance. The activities we prescribe depends on your level of function.
After an injury, we focus first on treating your tissues. Then, prescribe targeted exercises to strengthen weak muscles.
We begin functional training when your tissue tolerates more strain. We teach proper body mechanics and train you to walk and run. Our focus is to regain your regular daily routine. In this level, we implement postural and gait training with appropriate manual therapy.
When the tissues are ready for an intense workout, we enhance function. We include balance and agility training to boost your performance.
Our goal is to maximize your skills and enjoy your life.