Who Benefits From Taping
---
Taping involves applying a special tape to your skin. It helps improve your movement during physical activity or sports. We use it to decrease pain, reduce swelling, and improve performance. Our focus is to lessen your symptoms and enhance your function. When used for injury, you'll have better movement. The main goal is to get you back into action faster.
Kinesio Taping

Kinesio Taping is the application of an elastic cotton strip with adhesive into the skin. We use this technique to boost the body's natural healing process while improving movement.

Our aim is to reduce pain and decrease swelling to improve blood flow. Besides, it enhances muscle activity to support your joints but not limiting movement.

Kinesio Taping helps promote faster healing while improving your function. Moreover, this technique prepares you for more intense exercises for your return to active life.

Bandaging

Bandaging is the use of elastic cloth to create pressure and support a body part. We apply bandages just after injury or during a flare-up of symptoms.

Our focus is to reduce swelling to improve blood flow and start the healing process. Besides, it limits movement to prevent more damage to your tissues.

Bandaging combined with icing helps you recover by reducing symptoms while you move. The right approach to care will help you return to your active life faster.

Splinting

Splinting is a technique using a splint to keep in place and protect an injured part. This method helps restrict motion to prevent further damage to your tissues.

Our purpose is to start the healing process of your delicate tissues. It also allows movement to your adjacent joints for you to get back your strength.

Splinting with therapist instructions to help you move is a better way to recover. The proper treatment gives you confidence on your way to recovery.

Sports Taping

Sports taping is the process of applying a rigid tape to a painful joint, or weak tissues. This technique helps an athlete to remain active by protecting movement or support weak muscles.

We aim to restrict your fragile tissues from moving while it is healing. Besides, it reinforces your tissues to prevent overuse.

Sports taping combined with proper exercises and correct muscle activation optimizes your game. The scientific approach to manage athletes helps them to perform with confidence.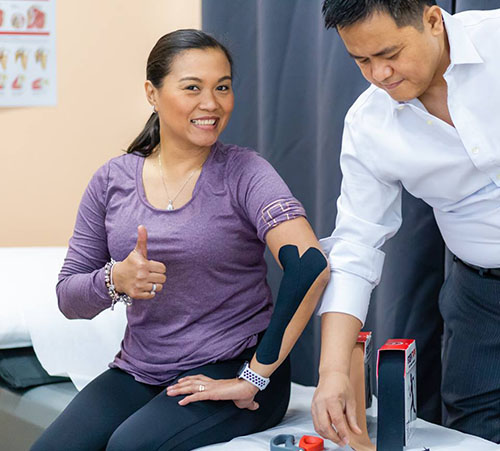 Our Experience
---
Taping is an essential part of managing pain and injuries. We combine it with other treatments to optimize healing. The technique we implement depends on your symptoms.
After an injury, we focus more on making your body part stable. We aim to prevent more damage to tissues while reducing swelling. The choice is compressive bandages.
When your condition is more stable, we apply Kinesio or sports tape to relieve pain while starting the movement. Early motion helps activate muscles and increase blood flow for faster healing.
After you're healing well, then we start a gradual increase of exercises. However, we still protect the fragile tissues to prevent a flare-up of symptoms.
Our ultimate goal in taping is to enhance you to recover fast.